Air Quality News talks to Felicity Aston, MBE, Arctic scientist, author and expedition leader.
Early next year Felicity will be leading the B.I.G North Pole expedition, where an all female-team will be skiing the last degree of latitude to the North Pole to collect data on black carbon and microplastic pollution. Spacehouse, the publishers of Air Quality News and Environment Journal are sponsoring this expedition.
Felicity's polar career began in early 2000 when she was straight out of University and got her first job with the British Antarctic Survey as a meteorologist.
'My role was to maintain the climate and ozone monitoring,' explains Felicity.
'It was a long contract, I was there for two and a half years and when I returned back to the UK my first instinct was that I needed to visit the other polar regions.'
It was then that Felicity started organising her own expeditions.
'I realised that no British women's team had ever crossed the Greenland Ice Sheet before. I have always wanted to challenge the stereotypical view of what a polar explorer is so I set out to do just that.'
Felicity continues to challenge the status quo and in the upcoming B.I.G North Pole expedition she will be leading five women who have never stepped foot in the polar regions before.
'When I look back on some of those early expeditions it leaves me breathless to think about how naive I was. But rather than seeing my mistakes as failures and finding them demoralising, they had the opposite effect. I found them to be a real motivator and it pushed me to do more expeditions and put these lessons into practice.'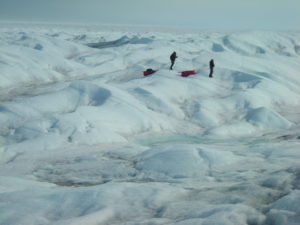 Since her first expedition over 20 years ago, a lot has changed in the polar regions. According to the latest IPCC Report, Arctic surface air temperature has increased by more than double the global average, with feedback loops from loss of sea ice and snow cover contributing to amplified warning.
'I was recently in Greenland and we were taking photographs in an area that I'd visited exactly 24 years before. It was amazing to have this quarter of a century view but it was no surprise to anyone to see that the amount of snow and ice was shockingly different.
'You don't have to be a scientist to see these changes, you don't even need to go to the polar regions, you can just as clearly see the impact of climate change outside your own front door.'
It was this realisation that motivated Felicity to undertake the B.I.G North Pole Expedition, one of her toughest challenges yet.
'Training is pretty much a full time job,' says Felicity.
'There's the physical training where we need to build up intrinsic strength. There's the skills training, learning how to use the stove, how to load the sledge and how to put up a tent when you're really tired. But most importantly there is also the mental training. We are a team that is a product of the pandemic and so developing cohesion as a team as well as the mental resilience and strength to cope in these extreme situations, where temperatures can be as low as -40°C, is vital to the success of this expedition.'
Alongside the physical challenge of completing this epic journey, the team will also be collecting data samples on microplastic and black carbon pollution.
'Unlike most expeditions where the weight of your load gets lighter every day, because of the data we are collecting the sledges will get heavier and heavier. We've put a cap of 80 kilogrammes on our sledge, which is huge when you consider that some of our members weigh 56 kilogrammes.'
When Felicity returns from the expedition she will be analysing the microplastic samples as part of a PhD that she has designed with the National Oceanography Centre in Southampton.
'The main way to understand changes in these regions is through models, but these models are only as good as the data you put in. So getting even quite simple data from this part of the world is vital and there is a real sense of urgency around this because our access to this part of the world is rapidly dwindling.'
Felicity and the team hope to complete the expedition in 7 – 14 days and although this might sound like a very short time period, according to Felicity it's this fact that makes the expedition so difficult.
'As soon as we step foot on the ice it's like a giant stopwatch has been started,' explains Felicity.
'We are really up against the clock because the general movement of the sea ice means we are constantly moving closer to an area called the Negative Drift. This is where the ice is moving us away from the North Pole faster than we can move forward, it's like trying to walk up an escalator the wrong way.
'The whole time that we're on the ice we can never really relax, we have this finite period to complete everything that needs to be done and it's that mind bending intensity that makes this journey so challenging.'
As the world meets in Glasgow for COP26, the team will be on a glacier in Iceland to undertake their training.
'This feels like a very pinnacle moment. As the world gathers to discuss the solutions to the climate crisis we will be in Iceland learning how to collect this essential data. There is a real sense of urgency to both our expedition and to COP26, time is running out and we urgently need to protect these precious regions.'
This article first appeared in the November Air Quality News magazine and is available to view here.