Environment Journal talks to Matt Gordon, coordinator of Our Future Leeds, the grass-routes organisation that is aiming to make Leeds a sustainable and socially just city.
Our Future Leeds was established in 2019 when a small group of people came together to call on Leeds City Council to declare a climate emergency.
Building on this momentum, the organisation has grown year on year and now has hundreds of volunteers from all across the city.
'Our Future Leeds is a people-led organisation,' said Matt Gordon.
'We aim to connect, support and empower communities and individuals to take effective and meaningful action to tackle the climate and ecological emergency and the continuing social injustice and poverty that so many marginalised communities face.
'We are responding to a political system that has so far has failed to address the political and economical route causes of these issues.'
Their membership ranges from academics, researchers, and teachers, but what makes them really stand out from other climate movements is their support from the council.
'Some people from the council play a vital role in the wider network of Our Future Leeds,' explained Matt Gordon.
'We operate at different scales across the city, so having the council on board is very important to us.
'Local government will play an essential role in helping us to achieve our long-term goals, and so we have some members who have been subcontracted with various teams to help support the council in their climate objectives.'
Our Future Leeds is also part of the broader Climate Action Leeds, a multi-partner programme that has been successful in winning a £2.5m award from the National Lottery's Climate Action Fund.
This funding has been used to set up a series of climate-focused community hubs across Leeds.
It is estimated that once complete these hubs will create over 40 local jobs, and around £400,000 in grants to local community groups will be shared to help them take action on climate and social justice.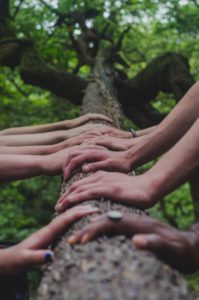 'We've tried to place our hubs in communities that represent the diversity of Leeds while also focusing on areas where there is already existing activity around climate action.
'Because of the Covid-19 pandemic, a lot of campaigning and activism has had to move online and it's been increasingly difficult for community groups to physically meet. It's amazing to see the tremendous amount of work that has been done online, but we really want to branch out into more physical spaces.
'We want to work with and support these groups to create broader and far-reaching climate action plans.
'These spaces are really our response to opening up that democratic process of participatory planning where people can build relationships across different realms. We've got groups focusing on housing, home energy, transport, education – different groups can focus on different sectors.
'We just want to make sure that everybody in the city feels welcomed into these spaces and feels able to make a contribution. When we will work with and support these groups to create far-reaching climate action plans.'
Photo Credit – Our Future Leeds and Shane Rounce