On December 31 2019, York City Council announced plans to ban all 'non-essential' car journeys from the city centre by 2023.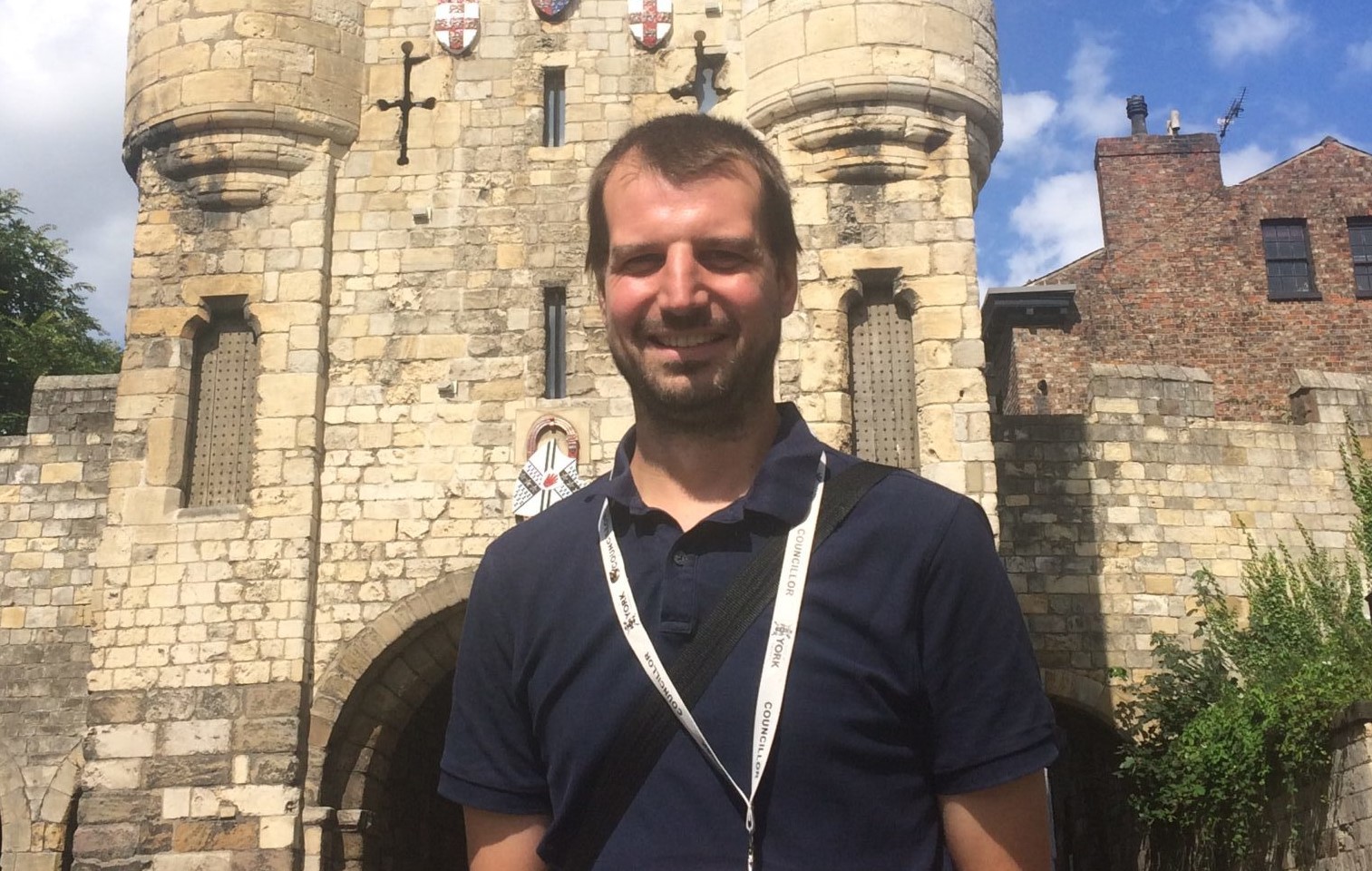 This idea was first proposed by Labour Cllr Jonny Crawshaw but has received support from many councillors. Air Quality News met Mr Crawshaw in York to find out more about York's approach to clean air and to hear about the reaction that he has received since this proposal.
Can you tell me a bit more about the 'car ban', why did you think it was the right time to introduce it?
This is all set in the context of York declaring a climate emergency,
In York, around 40% of carbon emissions come from road traffic, and around 96% of these are from private vehicles.
If we want to become carbon neutral by 2030 then we have to look at passenger vehicles.
There will be two parts to the motion, the first being that we need a city-wide approach to reduce unnecessary journeys, the second is to restrict non-essential car use within the city walls.
But it's important to note that we're not just trying to divert cars out of the city centre, we're trying to divert people out of their cars.
How will this be achieved?
I want to move away from the basic principle that cars are the most attractive option.
At the moment, in York and in lots of other towns and cities across the UK, the public transport infrastructure is just not sufficient enough.
People who live outside of the city centre simply can't get around without a car.
Therefore we have to provide people with a viable alternative.
We are already doing all sorts of things, we have a really good partnership with bus operators, and I think it's reasonable to ask them to operate a more frequent service that may be a loss over a short period of time but will increase footfall on the buses.
I have lived in Edinburgh and London and both cities have an incredible bus network, you don't think about how much it will cost or worry about when it will come, your expectation is just that it will be there.
We are also going to make small interventions early on in order to build support for what we're trying to do on a larger scale.
For example, on Micklegate, we put a single bollard in the old medieval gateway to restrict traffic in one direction and so far it has taken 1,500 cars a day off that street.
That single bollard has transformed the entire street.
Do you worry that banning cars could isolate people with mobility issues?
By taking non-essential car journeys out of the city centre it actually frees up the road space for the people who genuinely rely on their cars, blue badge holders, people with mobility issues etc.
We are not in any way trying to prevent these people from accessing the city centre, it's the opposite, we want to make it more accessible to them.
I also want to make sure that we're not isolating people who are not in walking or cycling distance from the city centre, I want everyone to see the benefits of changing how we travel around our city.
You have talked about encouraging bus and public transport use, but the current Clean Air Zone targets buses, should the focus not be on passenger cars?
When it comes to the Clean Air Zone, I think that any initiative is a good thing, but there are question marks over whether it goes far enough or whether it has been thought about properly in terms of what it's designed to achieve.
It doesn't even include coaches, lots of people come to the city every day on coaches.
It has not yet been stated whether electric vehicles will not be exempt from the 'car ban,' what are your thoughts on this?
Of course, electric vehicles are great, but a traffic jam of entirely zero-emission vehicles is still a traffic jam.
Until you address the fundamental issue of how people get around you aren't fully addressing the issue.
We have to readdress the use of private cars, it's about reducing non-essential journeys, and making it the easier option to get around by walking, cycling or public transport.
I completely understand that having a car to use whenever you need is good, it's good for me personally and for my family, I understand that, but if that personal good is contributing to a public bad then I think we have a moral obligation to do something about it.
My convenience shouldn't trump someone else's health and wellbeing.
What kind of response have you received since the proposal?
2019 was a year of political turmoil, but undoubtedly it was also the year that the climate issues became higher up on the agenda.
Whether its the school strikes, Extinction Rebellion or Greta Thunberg, the whole narrative around climate change has moved into the mainstream and I think people are looking to their political leaders to facilitate and make these changes.
3 or 4 years ago, if people were being told to get out their cars it would have been met with major backlash.
I was braced for a car lobby to name me public enemy number one, but in all honesty, I've been overwhelmed with positive messages, people thanking me for putting this forward.
I've only had about four or five messages from people who object.
And I mean it would be disingenuous of me to say that it is universally popular, but on a local level, I've been really pleasantly surprised by how it has been received.
But the bit I didn't expect is the response nationally, and even internationally.
This is great on several levels, it speaks to the change in the narrative, but it also paints York as a forward-thinking and progressive city.
The 20th century was car-centric, but the 21st century will be people-centric.
We're prepared to think outside the box and take steps that would have been radical two or three years ago.
Photo Credit – Jonny Crawshaw