At COP26, Environment Journal caught up with Colin Butfield, Co-Founder and Executive Director of Studio Silverback and Co-Author and Director of the Earthshot book and show. 
Launched by Prince William and the Royal Foundation in October 2020, the Earthshot Prize is the most prestigious global environment prize in history.
The Prize aims to turn the current pessimism surrounding environmental issues into optimism, by highlighting the ability of human ingenuity to bring about change, and inspiring collective action.
'At the World Economic Forum in Davos, I was involved in the production of an interview between Prince William and David Attenborough. During that interview they started asking the question, why is everyone talking about the problems but not the solutions.'
This inspired these key figures to come together to create something which is now known as Earthshot.
'We wanted to create a platform to lift up the environmental heroes who are doing incredible things for the planet,' explains Colin.
There are five key pillars of the Earthshot prize:
Protect and restore nature
Clean our air
Revive our oceans
Build a waste-free world
Fix our climate
These five pillars were carefully selected because they all interact with each other.
'Take clean the air for example, one of the big ways to clean our air is by stopping using fossil-fueled transportation, this is obviously going to help the climate and by helping the climate, you put less pressure on the oceans and you create less waste.'
Winners of the 2021 Earthshot prize range from whole countries such as Costa Rica who were recognised for their forest protection. To individuals such as Takachar who has developed a cheap portable device that converts crop residues into sellable bioproducts such as fuel and fertilizer. The technology reduces smoke emissions by up to 98% and if scaled, it could cut a billion tonnes of CO2 a year.
'The whole idea behind Earthshot is to treat the people that are doing amazing things for the planet as heroes. It is less about individual sacrifice, and more about hope, we want to highlight that there are actually lots of brilliant ideas out there and people who are already doing amazing things.'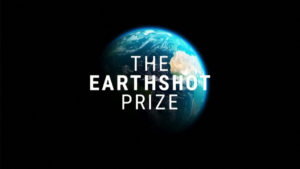 Before Colin was working on the Earthshot projects, he was Executive Director of Our Planet at WWF.
'About six or seven years ago, when we were working on Our Planet, we realised that there is a massive gap in terms of storytelling. For thousands of years, the planet has been stable and in the space of a single generation, we have knocked that out of whack. But in the space of the next lifetime, we can solve it and create something completely different. We are living through the most incredible time, but there's not enough telling of that story.'
However, presenting the climate crisis through the medium of film is not without its challenges.
'I've definitely made some mistakes,' says Colin.
'There's a tendency to just show collapsing ice shelves and polar bears, or smokestacks and loads of cars. After a while, this becomes very one-dimensional, and there's only so many people who want to watch an hour of that.
'We wanted to look at different ways of communicating, that's the biggest challenge.'
While he is at COP26, Colin is in the process of finishing off a new documentary series for YouTube Originals called a Seat at the Table.
'Presenter Jack Harries travelled South from the Scilly Isles up to Glasgow meeting people from all across the UK. At the same time, we were getting remote crews to film people all over the world. The idea is that we are telling the different human stories and then bringing all of these voices to COP26.'
To purchase the Earthshot book, click here.